San Carlos Area Biking News
Farmer's Market returns for 2021 Season
San Carlos Bikes is excited to host free Valet Bike Parking at the San Carlos Sunday Farmer's Market, which returns March 7, 9am-1pm. Look for bike parking on Varian Street at Bayport Ave, next to Devil's Canyon Brewing Company in San Carlos' Industrial Arts District.
Want to get in on the fun? Come volunteer with us! We've got shade, great company, and a new streamlined, easy bike check-in process. You can sign up for a bike valet volunteer time slot on any Sunday: 9-11am or 11am-1pm here: Valet Bike Parking Volunteer Sign Up
New this season:
1.) We'll be launching a "San Carlos Bikes Kids' Club" soon, where kids can earn bike-themed prizes when they ride their own bike to the Farmer's Market. 2.) REI is sponsoring our comfy seating/rest area (by donating a dozen portable camping/rocking chairs!) for bicyclists who earned themselves a rest by biking to the market.

Returning from last season:
1.) Drawings for awesome biking gear donated by local bike shops, including Chain Reaction Bicycles in Redwood City, will be held periodically.
Note From Chamber San Mateo County:
The Chamber of Commerce is excited to bring the San Carlos Farmers Market back to our location at Bayport and Varian in the Industrial Arts District on March 7, by Devil's Canyon Brewing Co., Cuvée Wine Cellars, Flying Suitcase Wines, Russian Ridge Winery, and Domenico Winery, all open on Sundays!
The market will be open 9am to 1pm every Sunday. Please come out and support the vendors that have long supported our market. More vendors will be added every week. And don't forget that San Carlos Bikes will be there to watch over your bicycles while you shop! COVID rules will apply, such as masks required for all, social distancing, and no sampling. No pets, please.With awesome support from the City of San Carlos, let's celebrate the return of the San Carlos Farmers' Market together!

We hope to see you there!
---
---
San Carlos Transportation Meeting, Tuesday, 4/20/20, 7pm
Please join and be prepared to call in! The bike-ability of our city needs MANY of us to call in with our public comments, because bike-friendliness in our town does not happen on its own.
— On this month's Agenda are:
Laurel Street Closure
Update on Parking on Sidewalks Brochure
— The Agenda Packet (Transportation Commission Agenda Packet for 4/20) summarizes the decision of City Council at last Monday's 4/12 meeting to NOT end the wildly popular pedestrian zone on Laurel early. See excellent summary article in SM Daily Journal article: San Carlos Continues Street Closure Program.
— Also included in the Agenda Packet is a copy of the brochure Public Works put together requesting residents please not to park on sidewalks. If you have time, please review and send any suggestions to sancarlosbikes@gmail.com for Sonia to pass on at Tuesday's meeting.
— To attend the monthly Transportation Commission meeting, join through Zoom at the following web address: https://us02web.zoom.us/j/83225226476 or listen-in via telephone by calling 1-669-900-9128, Meeting ID: 832 2522 6476.
How to Participate in the Transportation Meeting:
How to Join the Meeting: Join through Zoom at the following web address:
https://us02web.zoom.us/j/83225226476 or listen-in via telephone by calling 1-669-900-9128,
Meeting ID: 832 2522 6476.
How to Provide Public Comments on Agenda Items: Use the "raise hand" feature to notify the Chair that you would like to speak during the public comment period of an agenda item. If joining by phone, press *9 to "raise hand".
How to Provide Public Comments on Non-Agenda Items: Persons wishing to address the Commission on matters NOT on the posted agenda may do so. Each speaker is limited to three minutes and the total time allotted to Public Comment is fifteen minutes. If there are more than five individuals wishing to speak during Public Comment, the Chairperson may choose to draw only five speaker cards from those submitted and defer the rest of the speakers to a second Public Comment at the end of the Commission meeting. In response to comments on a non-agenda item, the Commission may briefly respond to statements made or questions posed as allowed by the Brown Act (Government code Section 54954.2). However, the Commissions general policy is to refer items to staff for attention, or have a matter placed on a future Commission agenda for a more comprehensive action or report.
How to Sign up to Receive Future Meeting Agendas in Advance: The best way to know what's happening in our city so you can speak up for or against is to sign up for the city's E-Notify email list. Go to http://www.cityofsancarlos.org –> Residents –> Connect with Us –> E-notify, or use this link: https://www.cityofsancarlos.org/government/departments/city-manager-s-office-communications/community-news/e-notify
---
---
San Carlos Bikes Asking Public Works to Reconsider Plans to Pour Concrete Bulb-outs into our Streets
A Complete Street is one that accommodates pedestrians, drivers, bicyclists/micro-mobility users and public transit. Excitingly, San Carlos Public Works has plans to make Brittan Ave (@ Tamarack Ave and @Woodland Ave) more pedestrian-friendly, but unfortunately, the current proposal recommends pouring concrete bulb-outs to shorten the crossing distance.
While the layout is excellent and doesn't impede the existing bike lane, San Carlos Bikes advocacy coalition is requesting the city consider using rubber curbs and white reflective paint instead of concrete because a) they can accomplish the same safety goals at a fraction of the cost, b) the rubber curbs are not as carbon-impactful as concrete, and most importantly c) the street remains flexible for future needs, including a possible transit-only lane.
Furthermore, the concrete this project requires seems like it would be better used to create sidewalks on the many, many streets in San Carlos where there are currently none (especially on routes to schools.)
For reference, below is an example of the rubber curbs and reflective white paint as used as Alameda de las Pulgas At Maxwell Ln, just north of Edgewood Rd.
Here they are used to to shorten crossing distance for pedestrians on Hopkins Ave in Redwood City:
---
---
Thank You For the Holiday Bicycle Donations!
Thanks to the families who donated bikes for our 2020 Holiday Toy Drive with the Lion's Club to benefit One Life Counseling Center! Thanks also to to San Carlos Bikes member Tim Ryan for his help repairing & tuning the bikes up and to Chain Reaction Bicycle Shop in Redwood City for donating the helmets and locks to go with them. Twenty-four inch kids bikes are one of the hardest gifts to find this holiday season, and we were able to donate TWO of them to families in need because of the generosity of our San Carlos & Redwood City community.
---
Silicon Valley Bicycle Coalition Next "Biketivist Forum on Wed, April 21, 5-7pm
Biketivist Forum V will be Wednesday, April 21 at 5 pm. Click here to register. SVBC has lined up speakers from San José, Fremont, and Daly City to talk through how their cities are working to make their streets safe r for everyone by implementing Vision Zero.

Want to learn more? Read SVBC blog
The format will be:
First half will be a presentation on a bike-related topic relevant to everyone

Second half will be devoted to Local Team meetings through breakout groups designated by city. These breakout groups will give attendees a chance to discuss the information from the speaker and apply it to their city's context as well as cover regular monthly business.
This forum will occur monthly on the third Wednesday from 5pm to 7pm.
---
---
San Carlos Bikes "Halloween Costume Bike Parade" a Success!
150+ bicyclists participated in our first ever Halloween Bike Parade Ride last Saturday, circling the route around Elm St, White Oak Way, Cedar St and Cherry.
---
Bay Trail Construction Continues
1.) Belmont/Foster City Area: Construction and initial closure of a portion of Levee Trail began on October 28, 2020, and will continue through fall of 2023. See map below for closed sections, and click on "Construction Updates" for the latest information.
2.) San Mateo/Coyote Point: Northbound Bay Trail users will detour off the Bay Trail at Mount Diablo Ave to Kingston Ave northbound and go around the west side perimeter of Poplar Creek Golf Course. To view expandable, detailed map, click on https://www.cityofsanmateo.org/1796/Project-Outreach
---
County Responds Quickly to Improve Safety on King's Mountain Road After Bike Fatality last month
From the Office of Sustainability: "The road will be temporarily closed to all motor vehicles for the duration of the striping, probably 2 – 4 hrs. It's to provide a safe environment for the contractor and its staff since the road is narrow and windy. It's also to provide adequate time for the striping to dry. have also coordinated our proposed project with the DPW Director at the Town of Woodside. The striping project will include:
Project limits will be from Huddart County Park to SR-35. It might be extended south to refresh the existing solid double yellow – TBD.
Caltrans Detail 22 with a slight variation on the reflective markers. The reflective markers will be installed on the respective yellow line to provide an addition 6" of surface area on the existing roadway (sample pics attached, SR-84/Woodside Rd).
Other signage to be installed subsequent to the striping project include: 1) NO PASSING ZONE; 2) WINDING ROAD; and 3) SHARE THE ROAD.
---
San Carlos Ave Quick-Build Improvement coming
The California Transportation Commission released staff recommendations for the 2021 Active Transportation Program (ATP) Quick-Build Project Pilot Program. The Commission can dedicate up to $7 million to the Quick-Build Project Pilot Program and has the option to select several projects for funding, or to select none. They received 22 project applications, totaling $15.2 million in ATP funding requests and valued at approximately $15.6 million. An evaluation team consisting of Commission staff reviewed the project applications based on the screening and evaluation criteria as established in the Commission's adopted guidelines.
Commission staff is recommending eight projects for funding, totaling approximately $4.4 million in ATP requests. The list of projects recommended for funding is available on the Commission's website. The Commission will add the remaining $2.6 million that is not being used for quick-build projects to the fosunding available for the statewide component of the 2021 ATP.
Silicon Valley Bicycle Coalition and San Carlos Bikes both wrote Grant Recommendation letters. The Commission will consider the staff recommendations for adoption at the Commission's October 21-22, 2020 mteeting. Fingers crossed!
To see the full image of improvemenCt plans for San Carlos Ave between Walnut and El Camino Real: Attachment C – San Carlos Avenue Concept-1
---
Could Empty Caltrain Parking Lots Along Caltrain Corridor Become Temporary, Mini 'Bike/Skate Parks'?
Public support for a bike-friendly skate park in San Carlos is high, and our community has its eye on the empty Caltrain Parking lot on El Camino just north of Arroyo Ave for a pilot temporary/mini pilot skate/bike park to give our community's youth a fun & interesting destination to promote getting outside and staying physically active during these unprecedented times.
While SamTrans (Caltrain's governing agency) initially rejected San Carlos Bikes petition to use this space for this purpose, after outreach to the Caltrain Citizens Advisory Board, Bicycle Advisory Commission and the Joint Powers Board, SamTrans/Caltrain staff have indicated they are re-examining the possibility.
This public comment was given at Caltrain's Oct 1 Board Meeting:
San Carlos is trying to build a temporary/mini pilot skate/bike park, and eventually a permanent one.
What does that have to do with Caltrain?
San Carlos wants to use the south end of the empty Caltrain Parking lot on El Camino @ Arroyo for a 3-4 month mini/temporary skate & bike park pilot.
It's a perfect location because it's publicly visible (which helps our town keep an eye on what's going on there while giving kids looking for attention a place to feel seen), it's right next to a pedestrian underpass so it brings the two sides of our town that the Caltrain track separates together for recreation, and it is empty, spacious and has never been used, even when Caltrain was running at full capacity.
Regarding safety concerns, a temporary fence could be put up along the El Camino side to prevent any potential mix with El Camino traffic. Regarding liability concerns, signage can be put up that absolves Caltrain of responsibility, including Skate/Bike/Ride at your Own Risk and requirements of the park usage.
SamTrans' initial response to our request was rejection based on a clause that suggests recreational usage of Caltrain space is complicated. However, our San Carlos community would like to submit that whatever code doesn't promote micro-mobility modes of transportation near a public transportation station seems seriously misguided, in a time where climate change is literally on top of us with ash falling on our heads.
We challenge you, the Caltrain board, to give your permission for our community to use the Caltrain parking lot as a temporary bike and skate park while we look for a permanent space in our town, to help us train the next generation to love micro mobility and public transportation more than it loves cars.
And take it one step further to PROactiveness, Caltrain needs financing right now, and to get it it needs to win the hearts and minds of the WHOLE communities it serves. We strongly urge you to consider giving permission to all the cities Caltrain runs through to temporarily block of parts of the empty parking lots for 3-6 months for active, micro-mobility-focused recreational parks: For socially-distanced, outdoor biking, skating, skateboarding, scootering, etc areas for our youth.
Let the cities figure out liability, but like street closures did for outdoor dining, empty parking lots need to do for micro mobility encouragement—for the mental, physical, social and environmental health of our towns. Call it an emergency measure, a temporary override of previous policy on recreation– you certainly have your pick of which emergency to claim it under—the pandemic, the drought, the fires, you name it.
Please do this for the livability of our communities, for our planet, and for the future survival of Caltrain itself.
For the full email exchange between San Carlos Bikes and Caltrain/SamTrans, see: Email Exchange with Caltrain/SamTrans
Can you help? Connect with Bethany French (San Carlos Parks & Rec Commissioner) at bfrench@cityofsancarlos.org, Ara Vagharshakian (owner of Society Skate Shop) at ara@societyskateshop.com, Isabel Sugden (of San Carlos Youth Advisory Council) at georgeandgracie2@gmail.com or Sheridan Ross (local resident/supporter) sheridanross@gmail.com.
---
---
Environmentally Outstanding Proposal to Close a Bay Trail Gap in Burlingame Underway
When a project manages to restore wetlands and create public education facilities WHILE building a bike trail on a levee with stunning views of the Bay that ALSO happens to close a vital Bay Trail gap, you know you have great folks in charge of the project. To Learn more and/or Donate to this vital project, go to: http://shorelineparkburlingame.org/background/
---
---
101 Interchange at Woodside Rd in Redwood City getting a Bike-friendly Make-over
Redwood City is proposing to reconstruct the Route 101/84 (Woodside Road) interchange to relieve existing and future traffic congestion, and improve traffic safety and vehicular access to and from Route 101 and SR 84 (Woodside Road). The goals include improving highway operations, reducing associated congestion on Redwood City streets, removing barriers to non-motorized travel and minimizing impacts on nearby businesses. The project proposes to modify the on- and off-ramp configuration at the interchange and adjacent local intersections to improve traffic flow, increase safety, provide new pedestrian and bicycle access across Route 101 (which does not presently exist) and provide new and improved sidewalks and bikeways throughout the project area. Details here: https://www.redwoodcity.org/departments/community-development-department/engineering-transportation/transportation-parking/101-woodside-interchange
---
Free LEGO-inspired Bike/Ped Educational Resources Get New Website
The new official website with the new LEGO-inspired bike/pedestrian safety training slides that anyone can access/copy/use for educational purposes is www.bikesandbricks.org. It's a great resource for teaching youth about biking, rules of the road and for the younger ones, safe walking. It's also a great way to get kids to 'think like a traffic engineer' when they build with their own LEGO's . (Also a great resource for new young drivers). Feedback appreciated!
---
---
Local Cyclists Exploring Alternatives for Making Crystal Springs Corridor Safer Without Compromising Efficiency

Ever since the original plan to create a separated bike path along Crystal Springs Corridor for cyclists stalled out due to environmental/endangered species concerns near the water, cyclists have been thinking of alternatives that respect environmental concerns while improving safety and maintaining efficiency. Different cycling groups, including Western Wheelers contributed their perspectives, which were incorporated into the proposal. See proposal here: Cañada-92-Skyline Safety Improvement Proposal. Contact Elaine Salinger at elainesalinger@icloud.com to support the efforts and contribute your ideas/feedback!
---

San Carlos Bike/Ped Masterplan is Online!
Consider making this your bedtime reading for a few days. Memorize however much you can. Eventually, almost certainly, there will be a test. 🙂 Link here: San Carlos Bike/Ped Masterplan
---
Riding your Bike IS Climate Action
International bicycle retailer Trek is sponsoring the #GoByBike movement to encourage cyclists to encourage other cyclists.
Details at: https://www.trekbikes.com/us/en_US/gobybike/
---

Imagine a San Carlos Youth Bike Courier Program
Remember when kids delivered newspapers on bikes? Imagine a new spin where people giving away free items on Nextdoor and Facebook can put out a request for a youth bike courier to pick up on item for tips. Are you ready to invest in our community's youth? Would you pay $3-5 to save a car trip and encourage a neighbor kid (or your own) to get out for some exercise, fresh air, sunshine and a purpose (earning tips)? Brainstorming now– If you have ideas for how this might work and what apps would help, email sancarlosbikes@gmail.com.
---

De-Mystifying Bay Area Transportation
Ever tried to Navigate our 'Alphabet Soup' of Bay Area Transportation Agencies? Check out Silicon Valley Bicycle Coalition's: Guide to De-Mystifying Bay Area Transportation to figure out which meetings you should attend to get your project accomplished. See the full-sized visual overview to see how it all works together here: Regional Bay Area Transit Diagram
---
$8 Million available To Fund Bike/Ped Projects, Applications due by Sept 21!
The San Mateo County Transportation Authority just launched an $8.1 million call for bicycle and pedestrian projects in the county. See article here: Call for Bike/Ped Improvement Applications
Help Needed in Belmont! Our Belmont neighbor Sue Tobachnik is spearheading efforts to get bike lanes onto Ralston Ave in Belmont. Please email Belmont City Council at CityCouncil@belmont.gov to help advocate and let Sue know you support her effort: strattfink@gmail.com. Here is a link to her email if you need a template: Letter to Belmont City Council about Bike Lanes on Ralston
---
---
---
The Link Between Poor Air Quality and Covid-19 Severity Get Stronger, Even as National Environmental Policies Get Weakened
"As the Covid-19 pandemic continues to surge in the United States, with deaths surpassing 169,000 and 'red zones' emerging in 21 states, preliminary research suggests that people living in communities with significant exposure to air pollutants have an increased risk of hospitalization or even death if exposed to COVID-19." Source: Brookings Institute Links Between Poor Air Quality and Public Health
See San Carlos Bikes': Open Letter on Growing Evidence of Link Between Air Pollution & Higher Covid-19 Severity Risk
---

Got a bike repair you need help with?
Fixit Clinic is back, now on-line! Here's how it works: show your bike (or any other broken item) to the global assembly of community repairers and get suggestions for things to try. After all items are presented we assign items/participants and repairers to Zoom breakout rooms to implement the suggestions and, hopefully, fix the items.
Sign up ASAP with things to fix at http://bit.ly/fixitcheckin so we can schedule you for Saturday; and please encourage your family, friends and neighbors around the globe to sign up too. (And remember: we can look at large things like dishwashers, TVs and furniture now.)
Fixit Clinic Website: www.fixitclinic.org, Peter Mui fixitclinic@gmail.com
---
The Flipside of the Transportation Issue is Always Housing
This is a recorded discussion worth listening to, facilitated by Councilwoman Laura Parmer-Lohan, about Housing Insecurity & Unstable Communities, with:
Here is a link to the recording. Attached here are the slides, including a resources page. Thanks Laura!
---
Keep Riding San Carlos, especially our new WEEKEND BIKE LOOPS!
Be the Change you Want to See in our World…
---
Still Relevant, Older News:
Commute.org Supports Bicyclists in the Workplace!
Does your commute spark joy?? Commute.org is our public San Mateo County commuter resource, is here to help improve and incentive smarter, less grueling commuting!
"Commute.org is a public agency whose mission is to reduce the number of drive alone vehicles traveling to, from or through San Mateo County. Our goal is to help residents and commuters find alternatives to driving alone that are less stressful, less costly and better the environment. The agency provides information and commute planning assistance to employees, employer programs, and city transportation demand management partnerships."
Check out their:

Bike Commute Resources
Trip Planner
Commuter Incentives & Rewards
Guaranteed Ride Home Program
Commuter Shuttle Services
Bike Parking at Work Sponsorship Program
---
New! The Life-Saving Technology that was Forgotten: The Case for Bicycle Rear-View Mirrors free e-Book is out!
All the reasons to add a rear-view mirror to your bike…
---
Even Older News, But Still Relevant:
LeBron James Partners with Lyft to Bring Bike Access to Youth in Need. Lyftup will give free, 1-yr bikeshare memberships to youth in NYC, Chicago & the Bay Area; LeBron James supports Bike Access Program
Research on Biking & Focus/ADHD currently happening at Stanford Medical School in a collaboration with Specialized Bicycles' Outride Foundation; Article here: Santa Cruz Sentinel Article about 'Biking for Focus' Research Project; Link to research results: Outside Foundation Research on Biking & Focus
New 3-D Style Crosswalks could slow traffic without the need for speed bumps 3D Zebra Stripe Crosswalk in Iceland Slows Traffic with Stunning Optical Illusion
3 Bike- friendly legislations suggestions submitted to Senator Jerry Hill's "There Oughta Be a Law" Contest:
Estimates put Bike Theft at >2million per year in US. See article: Bike Theft Surpasses 2 million per Year in US; Register your bike (and your family's bikes!) for free at www.project529.com or download the Project 529 app.
If your bike is registered and you have the Project 529 App, reporting a stolen bike takes one click, and a picture of your bike goes out to all police departments in the area. Register today!
Biking Resources

Silicon Valley Bicycle Coalition San Mateo County team meets the first Thursday of each month. Email Sandhya Laddha at sandhya@bikesiliconvalley.org to get the meeting details.
Visionary, NEW "Petition for a Seamless Bay Area" needs all of our signatures! Unreliable service, slow speeds, poor connections, run-down stations: Bay Area public transit can be so frustrating many
people avoid it completely. It's no wonder only 12% of people in our region take transit to work.
To let go of needing to own multiple cars and embrace active transport like bikes, seamless public transit is ESSENTIAL. Please check it out and ADD YOUR VOICE to this petition! https://www.seamlessbayarea.org
Outride Foundation's 'Riding for Focus' Program applications for bike training programs in Middle Schools due by Feb 14, 2020. Every year local bicycle company Specialized (in Morgan Hill) funds middle school riding programs across the USA that promotes students' mental & physical health through bike riding.
"Outride's school-based cycling program uses cycling as a tool for students to achieve academic, health, and social success. The program is designed to provide middle schools with everything they need to get their 6-8 grade students riding; includes bikes, helmets, starter maintenance equipment, and training."
Got extra time and want to make biking better? Here are some monthly meetings that need more voices for sustainable, active transportation and faster, more efficient public transit:
Got extra money and want to make biking better? These organizations need you as a member and appreciate your donation:
–>Silicon Valley Bicycle Coalition, which covers San Mateo County ($35/yr): SVBC wants to enable people to ride their bikes safely wherever and whenever they choose to. Let's make that a possibility for everyone today! Join/Donate to SVBC.
–>California Bicycle Coalition ($25/yr): Join our movement for a healthy, bike-friendly California where all our communities thrive. Join/Donate to CalBike
–>League of American Bicyclists ($40/yr): . Effective advocacy on Capitol Hill relies on the support of thousands of Americans to make cyclists' voices heard. Join/Donate to League of American Bicyclists
–>People for Bikes: Your donation builds more safe and convenient places to ride, transforming America through bicycling. Donate to People for Bikes
San Carlos Ave Bike/Ped Improvement Project continues and is scheduled to continue through Spring 2020. Plan for traffic delays and detours in that area:
Details: San Carlos Ave Bike/Ped Safety Improvement Project
Pedestrian Bridge over 101 at Holly Street IS coming to San Carlos as part of the Holly Street Interchange Improvement Project in the works (details at San Carlos approves Holly Interchange Improvement Project).
Expect construction near Holly Interchange soon due to Caltrain's Expressway (toll lanes on 101) project (lasting ~1yr), then Holly Street Exchange Improvement project to begin right afterward and last ~18 mos.
Plan ahead: Getting on/across 101 is going to get harder before it gets better. Get your bike routes picked out asap, learn the Caltrain/Bus schedules as back-up, and stock up on bicycle rain gear
Hillsdale Caltrain Station Closure (temporarily for construction) in Spring 2020. Details here: Caltrain BAC Hillsdale Station/Grade Separation Bike-related News and Hillsdale Caltrain Spring 2020 Closure Updates
---
On-line Transportation Discussion Forum, is live and open to all. Over 300 people have joined the new, on-line discussion forum for all things transportation: Let's Talk Transportation: San Carlos & Surroundings.
The goal is 300,00+ members, which is the combined populations of San Carlos, Belmont, San Mateo, Foster City & Redwood City PLUS all our Bay Area transportation commission/council public officials. Spread the word!
Everyone welcome, please spread the word, posting/contributions appreciated, email letstalktransportation@gmail.com to request a 4×6 postcard to put up in public spaces.
Join and participate at: www.nextdoor.com/g/ldy7tlfot
City of San Mateo Bike/Pedestrian Master Plan in the works. Here's are links to the details: San Mateo Bike/Ped Masterplan Update,
Redwood City bike-friendliness projects in the works Redwood City Bike/Ped Plans & Projects Updates
Belmont Bike-friendliness projects in the works: Belmont Bike/Ped Masterplan
Report a Problem in San Carlos using the 'InformSC' App: Improve San Carlos by reporting problems (debris in bike lanes, unsafe street conditions, vandalism, bike theft, unnecessary waste of resources, etc).
Residents are the eyes and ears of our town–our city staff is too small to be able to be on top of everything all the time. Download app or report online: https://www.cityofsancarlos.org/services/report-a-problem.
Free Bike Maintenance Classes available at Sports Basement in Redwood City. On 1st Thursday (basic level repair) and 3rd Thursday (intermediate level repair) of each month. 202 Walnut St, (650) 421-7440 for details/sign up.
The E-Bike Voucher Bill (SB 400) WAS signed into law but is not in action yet: The bill that expands the Clean Cars for All Program with incentives for turning in old, polluting cars to include vouchers for bikeshare and e-bikes is exciting but slow to get rolling…stay posted. (For details: Californians can turn in polluting old cars for e-bikes and bikeshares also )
San Carlos Middle Schooler Mountain Biking Project continues to grow.
Email Alistair Adams at adams.alistair@gmail.com to be connected to interested/engaged local mountain biking/BMX enthusiast families.
Read up on progress so far and why we support bringing a pump track to San Carlos here: Bringing Pump Track(s) to San Carlos
Bike Riding Camps through school year by Wheel Kids, Inc. (Palo Alto & San Francisco); One-day bike riding camps for kids 5 years and older on school holidays; Details at: http://wheelkids.com/about-us/programs/
Local Bike Shop Directory available on Silicon Valley Bicycle Coalition website. SVBC Local Bike Shop Directory
To make sure all our favorite bike shops are represented on their website and reflect the products and services currently offered, please email jessica@bikesiliconvalley.org with any new information!
A visionary "Bay to Sea Trail" is in the works that would stretch from Bair Island and potentially Ravenswood Open Space Preserve, into the hills near Huddart Park and Purisima Creek Open Space Preserve and on to Half Moon Bay!
Follow Peninsula Open Space Trust on Facebook for updates, to find out how to help, and read more at: Trail to connect Bay to Ocean, through Redwood City

For "Unincorporated San Mateo County" residents in San Carlos (like around Devonshire Canyon):
…make sure you get on Walk/Bike San Mateo County's email list so you can STAY UP TO DATE and GET INVOLVED in making your area more walkable/bikable! Walk/Bike Unincorporated SMC
Safe Routes to School Survey Results for San Carlos School District Results from 2018-19 are compiled and summarized.
Do you carry stuff & people on your bike? Check out San Carlos Cargo Biking Facebook Group! SC Cargo Bicyclists
Are you teaching a new biker safe biking and rules of the road? Check out: Teaching Children Safe Biking Habits & Skills
Could bicycle rear-view mirrors keep us safer on less than optimal bike infrastructure streets? Could mirrors help us bridge the safety gap between promoting greater bike ridership and creating the infrastructure to support everyone? Check out The Case for Bicycle Rear-View Mirrors Feedback appreciated: sancarlosbikes@gmail.com
San Carlos Train Depot would make an excellent 'Bike/Transportation Center' See: Inquiry about San Carlos Train Depot Building Availability for SC Transportation Center
Proposal for Old County Rd to become Bike Corridor/Peninsula Bikeway Extension:
This email was sent in July 2019 to public officials in Redwood City, San Carlos, Belmont & San Mateo: Open Letter to RC/SC/Belmont/SM cities Proposing Bike Corridor on Old County Road
San Carlos needs a more efficient/effective public transportation system–but how to pay for it and how to get people to ride it rather than take their own cars?
The good news is SamTrans is 'Re-imagining" itself, and wants public feedback. Please let them know your ideas and suggestions here: https://www.reimaginesamtrans.com
One of the biggest conclusions of the SCSD Safe Routes to School survey indicated that San Carlos needs a way to get people in general but especially school-aged kids in and out of the hills to/from school, activities & downtown more effectively.
There was a free shuttle service that ran in San Carlos a few years ago, called SCOOT, that was stopped because it was too expensive to maintain, and insurance was astronomical. The old route maps, that covered most of San Carlos, are here: Route Maps from the old San Carlos On-Demand Shuttle
Currently 3 Samtrans Public bus routes run a limited schedule that gets about 100 school kids to/from school. Large public buses don't fit on all the streets they need to go, but smaller shuttles would, including this piece of awesomeness used in France: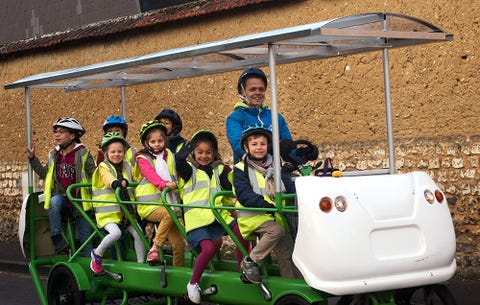 Source: https://www.bicycling.com/news/a20046469/-49/
Public Interest in Connecting Hiking Trails up to Heather Elementary
Walkable access to Heather School, AND a chance to get valuable time in nature in, would be helped if paths through the hills around Big Canyon Park connected to Heather School.
Anyone interested in hiking the territory and mapping out what trails would be needed to create paths through nature to get our kids to school, please email sancarlosbikes@gmail.com.
Interest in Pico Blvd Accessibility for Bikes/Peds. (In Redwood Shores, Pico connects the Bay Trail and Skyway Blvd next to Hiller Museum to Twin Dolphin Dr.)
SamTrans had a chain link fence put across Pico almost a decade ago based on this report: 2010 Safety & Security Site Review of Pico Blvd.
Here is very old email from a past Sam Trans administrator when fence was contested: 2010 Email from Mark Simon
Pico should not be difficult to improve safety-wise for bikes/ped access, and grant funding for these kinds of projects is available. Done correctly, it would make bike/ped travel between the Bay Trail, San Carlos, Redwood Shores and Belmont significantly safer.
This route passes through the Marriott Suites/Associated Learning Parking lot, so hotel guests would have a MUCH safer way to access the Bay Trail south to get to Facebook, etc, or out to dinner in San Carlos once the Pedestrian Bridge is finished in ~2.5 years. Marriott would be wise to consider a bike share/rental program for hotel guests.)
Cyclist Matthew Self has created an improvement proposal: Phelps Slough Trail proposal
Currently, cyclists use Redwood Shores Parkway to turn left onto Twin Dolphin Dr., which involves crossing multiple lanes of traffic coming off 101. (A green 'left-turn wait box' at that intersection would also help tremendously, see image: Green Left-turn Wait Box.)
If you have thoughts, suggestions or know someone in Sam Trans who could help get this conversation going, please email Matthew Self at matthew@mself.com.
San Carlos Transportation Commission removed the possibility of re-opening the 'Postman's Path' that connected Carmelita Street in San Carlos to Cedar/Orange from the current Bike/Ped Masterplan, because of resident/public concern about that area being too hard to patrol and currently not possible to keep safe/clean.
It was closed 20 years ago because much of the path is not visible or patrollable from the street and youth tended to gather there for brawls and illicit activities.

Could that bike/ped path EVER be re-opened safely? To NOT be able to have trails through nature available to bikes/peds because of human nature is a sad commentary on our society.
If you have thoughts, concerns, brainstorms on how to solve this problem, please email sancarlosbikes@gmail.com .
LOCAL BIKE RIDES
7.) HELP NEEDED:
Let us know your bikes/wheel news so we can add it to our newsletter & Facebook page to let the rest of our biking/riding community know. Send news to sancarlosbikes@gmail.com.
Hometown Days will need volunteers for Valet Bike parking Email us at sancarlosbikes@gmail.com to volunteer.
Sign up for Squeaky Wheels Newsletter: To get these updates about new bike/wheel-related info in our community delivered right to your inbox, click here to be added to our google-group email list: Receive 'Squeaky Wheel' Newsletter by email. If you have a gmail account, go to Google Group Email List and click "Apply to Join Group."

BIKE CARE:
Maintaining a Bike

REI, San Carlos — classes for a fee on fixing flats, bike chain/derailleur repair, tubeless tires, and learning to rideREI Classes near San Carlos
Sports Basement, Redwood City — offers free, basic maintenance classes, including flat tire repair. Bring your own bike. 1st & 3rd Thursdays
Mike's Bikes, Palo Alto — Free Tuesday night Tech Classes, 6-7pm, Mike's Bikes Tues Tech Classes
The Bike Kitchen, San Francisco — teaches people of all ages and backgrounds how to repair bicycles. As a cooperative shop, they provide affordable ways to acquire and maintain a bike, encourage re-use and recycling, and work with community groups to get more people on bicycles. http://bikekitchen.org
Bike Teacher, San Jose –Bike mechanics classes for a fee; individual & group, http://www.biketeacher.com
Bike Fix-it Station — Mountain View — Drop in Bike Clinic, every 3rd Saturday of the month Drop In Bike Clinic Mountain View

Building a New Bike

'The Crucible' Bike Shop, Oakland — teach classes like Bike Mechanics, Bike Frame Building, and Art-Bike Creation. Learn from the pros to help get your ride on the road, keep it running in top condition, and trick it out. Details at: https://www.thecrucible.org/departments/bike-shop/

Renting a Bike

Sports Basement, Redwood City — mainly hybrids bikes; For e-bike, single/dual suspension mountain bike rentals call SF location
REI, San Carlos — Mountain bikes for rental only; demo/rental program where daily rental cost (~$90-135/day) is applied to cost of new bike; The Saratoga location rents hybrids, single/dual suspension mountain bike and kids bikes.

Fixing a Bike

Silicon Valley Bicycle Exchange, Palo Alto—a place to find people who will help you learn to fix bikes for free, a place to donate bicycles, and a place to volunteer your bike fixing skills for a great cause! At 3961 E. Bayshore Road in Palo Alto, www.bikex.org (Open 2nd/4th Sat of Jan-Oct; 2nd/3rd Sat in Nov; 1st Sat in Dec. Doors open at 10am for volunteers, 11am for donors and those wishing to learn to work on bikes, and close at 3pm.)
SJ Bike Clinic, San Jose — a do-it-yourself community bicycle workshop located in downtown San Jose. We are entirely volunteer-run and non-profit, a fiscally sponsored program of Silicon Valley Bicycle Coalition. Details at: http://www.sjbikeclinic.org

Getting a Free/Low-cost Bicycle

Silicon Valley Bicycle Exchange of Palo Alto donates their bikes to the following organizations, whom you can contact if you need a free or very low cost bicycle:

Buying a Used Bike
Donating an Old Bike

Silicon Valley Bicycle Exchange, Palo Alto—a place to donate bicycles, be taught how to work on them for free, and volunteer your bike fixing skills for a great cause! At 3961 E. Bayshore Road in Palo Alto, www.bikex.org
Bike Clinic, San Jose — a do-it-yourself community bicycle workshop in downtown San Jose. Volunteer-run and non-profit, a program of Silicon Valley Bicycle Coalition. Details at:http://www.sjbikeclinic.org

Buying a Cargo Bike
Learning to Ride

Bicycle Solutions — Riding lessons with local expert riding teacher, John Ciccerelli, Details at: Learn to Ride with an Expert
REI, Mountain View — Offer classes for kids to come to learn to ride
What is San Carlos Bikes?
We are a bikes and wheels advocacy coalition trying to make streets safer for all users in our town, increase bicycle ridership in our town, improve bike & wheel-friendly infrastructure, promote active/sustainable transportation, and encourage public transportation accessibility and use.
How can I join San Carlos Bikes?
It's easy–no dues or fees required. Just sign up for our Squeaky Wheel Digest newsletter to your email inbox, OR follow us on social media:
Does San Carlos have a 'Bike/Ped Master Plan'?
Yes! Find it online here: The new Bike/Ped Masterplan is a big deal for San Carlos, and there are funds coming available to make a significant difference in easing traffic and parking congestion downtown if we all work together to help the city come up with great alternate transport solutions that fit our needs—like biking, scootering, e-biking & e-scootering, skateboarding, walking, wheel-chairing, walking, jogging, stroller-ing, etc. We need your input and great ideas! Remember, squeaky wheels get the grease! Your ideas and suggestions MATTER!
Archive of PAST Events/News
ARCHIVE from Sept 2020:
San Carlos Bikes is hosting free valet bike parking to keep encouraging more biking, less driving in San Carlos, and because there is only one bike rack at the market, on Washington St. in front of Devil's Canyon Brewing Co. And thanks to the enthusiastic support from new, local bike shop Zack's Performance Bikes and their mechanics you can now get a mini bike tune-up while you shop, for a $25 donation to San Carlos Bikes. Thank you Mark & Zack!!
Volunteer Opportunity: Our first week we parked 1 bike, the second week 6 bikes and the third week 36 bikes. If that trend continues (x 6 each week) we'll be parking 216 bikes this Sunday, Oct 4, 2020. While that might overly might optimistic, just in case, we'd love a few more bike parking volunteers, especially from 12-2pm. It's essentially a bike party and it's BYOBicycle–what could be better?! If you can help out, here's the link to sign up: Farmer's Market Bike Valet Volunteer List
THREE San Carlos Commissions have Openings
Thurs, Sept 10, 2020 applications are due. San Carlos commissions help guide public policy and City Council. Bicyclists tend to be uniquely qualified for these roles because the nature of bicycling in a community requires one to pay very close attention to one's surroundings. Cyclists not only tend to be hyper-aware of what's going on in our city already, they also bring a valuable sustainability perspective that has NEVER been as critical environmentally as it is right now.
If you think you might be interested in bringing your unique experience and expertise to our city's parks (Parks & Rec Commission), or local business issues and development projects (Economic Development Advisory Commission), or traffic and roads (Transportation & Circulation Commission), please consider applying. It's a great way to get involved in the community without a huge time commitment: Cityofsancarlos.org/CurrentOpenings
ARCHIVE from July/Aug 2020:
It's a local biking Scavenger Hunt for the whole family!
Local retailer REI is sponsoring a Summer Bicycle Challenge to help get families outdoors and adventuring, with a chance to win free stuff!
Find these items on your family's bike trips before Aug 31, and enter to win!: California Poppy, Local Body of Water, Park Entrance Sign, Local Bridge, Street Sign with Name of Tree, Bike Lane, Local Mural, Favorite Tree on Route, Local River, Chalk Art, REI Store Sign, Famous Local Landmark, Family Helmet Selfie, Squirrel Sighting, Make an Ice Cream Pit Stop, View of Local Mountain Peak, California Quail, Bicycle Sign, Natural Art, Log 50 Miles as a Family, Show Your Bike Safety Gear, Crosswalk Art, Proper Bike Signal, Random Act of Kindness, Replace a Car Errand, Run with a Bike, City Sign, Clean Bike Chain, Beautiful View.
Rare Opportunity to Make a Major Climate Policy Difference in San Carlos
Wed, Aug 26, 2020, 6:30-8:30pm: When shelter-in-place conditions brought blue skies to places where people had only known smog and our entire planet's seismic activity suddenly dropped, it became clearer that collectively we have tremendous influence over the health of our planet. It also became clearer that if we don't, nature will take care of itself, at our expense. Singlehandedly no one can change the whole world at once, but any one of us can lead the change in our community that eventually changes the world. San Carlos is a community people look up to, thanks to hard-working staff, involved officials, and residents who care deeply. Now, San Carlos City Staff are asking for resident help with Climate Action. They are revising the "San Carlos 2009 Climate Action Plan" and want input on HOW to help San Carlos address climate change and foster a sustainable community.
Fellow bicyclists, it is our OPPORTUNITY AND RESPONSIBILITY to help lead the charge on a topic we know inside and out: sustainability. Don't miss this chance to help usher our city into its own more sustainable future. When we do our part, the world will follow. You don't have to say anything if you don't want, showing up is already plenty– it's free and a Zoom call, there's nothing to lose.
Show Up/Register Here: https://www.cityofsancarlos.org/government/departments/city-manager-s-office-communications/responsible-environment/climate-action-plan/climate-workshop-registration
Learn More: https://www.cityofsancarlos.org/home/showdocument?id=6146

Facebook's "Bikes Make Life Better" Program embraces Biking
See What the Big Companies do to Bring Biking to Work: https://bikesmakelifebetter.com/about-us/
Join the San Mateo County Bicycle & Pedestrian Advisory Committee!
Help improve walking and biking conditions in unincorporated San Mateo County–Apply by July 24, 2020 5pm. San Mateo County Bicycle and Pedestrian Advisory Committee (BPAC) is looking for two residents among Districts 1, 2, 4, and 5 (see below) to join the BPAC.
District 1: San Mateo Highlands and the Baywood Park neighborhood, Burlingame, Burlingame Hills, Hillsborough, Millbrae, San Bruno , South San Francisco (east of El Camino Real) and the San Francisco Airport.
District 2: Cities of Belmont, Foster City and San Mateo
District 3: Cities of Atherton, southeast Belmont, Half Moon Bay, part of Menlo Park (west of El Camino Real), Pacifica, Portola Valley, San Carlos and Woodside. Unincorporated Devonshire Canyon, El Granada, Emerald Lake Hills, Harbor Industrial Park, La Honda, Ladera, Loma Mar, Los Trancos Woods, Menlo Oaks, Miramar, Montara, Moss Beach, Palomar Park, Pescadero, Princeton By-The-Sea, San Gregorio, Skyline, Sequoia Tract, Skylonda, Stanford Lands, Vista Verde and West Menlo Park.
District 4: Redwood City
District 5: The communities of Brisbane, Colma, Daly City, San Bruno (north of Sneath lane and west of Interstate 280 ), South San Francisco (west of Interstate 280 until Avalon Drive then west of Junipero Serra Boulevard, and north of Hickey, Hillside and Sister Cities Boulevard to Highway 101) with Unincorporated Broadmoor Village, San Bruno Mountain Park and Brisbane Quarry.
Check which district you're in by address: https://bit.ly/2ZGQsir
1st Annual San Carlos 4th of July 'Bike Parade' Ride was a success!
Over 100 riders, walkers, joggers and spectators spread themselves out along the 2.1 mile loop of Elm <–>Howard <–> Cedar <–> St Francis to roll and greet other riders and spectators enjoying the holiday ride. And this despite at least half of San Carlos being out of town on vacation. 🙂 Thanks everyone for keeping the bike ball rolling in San Carlos!
Laurel St Pedestrian Mall Shaping up
PLEASE tune into the upcoming City Council & Transportation Commission meetings to help continue to shape it. It's the (last) Agenda Item, 12b for City Council on Monday 7/13 at 7pm. Email Sonia at sancarlosbikes@gmail.com with your cell phone number and I'll send you a text the night of the meeting when they are about to discuss the downtown, if you don't want to listen in for the whole council meeting. Agenda for Transportation Commission not yet published…
Downtown Laurel St "Pedestrian Mall" Updates:
The 600 Block of Laurel (between San Carlos Ave and Cherry) was re-opened because of struggling non-restaurant merchants who needed parking. Sneaker's restaurant prefers it be closed to traffic, but other businesses on that block will need a LOT more bike/pedestrian traffic customers to feel comfortable shutting the street down to car traffic.
PLEASE help support both restaurant and non-restaurant downtown merchants! They need our patronage to survive!
The City Council Agenda item 12b includes:
"Consideration of Adopting a Resolution Revising the Program for the Temporary Closure of the 600 & 700 Blocks of Laurel St and the Temporary Elimination of Parking on Portions of Laurel St and San Carlos Ave, and
Providing the City Manager with Authority to Modify or End the Program Based on Changing Conditions
Ratifying the City Manager's Emergency Authorization to Reopen the 600 Block of Laurel St."
Watch the City Council Meeting:
The meeting will be streamed live on the City's meeting webportal www.sancarlosca.iqm2.com and on Comcast Channel 27 and AT&T Uverse Channel 99.
Call in to City Council Meeting with Public Comment:
Public comments will be received by telephone during the meeting, prior to the close of public comment on an item. Please watch the meeting (see above streaming details) and call 1-669-900-9128 or 1-253-215-8782, Meeting ID: 452 388 965 at the time indicated by the Mayor.
Public Works needs OUR Feedback — Please Share your "Bike Loop" Experience with the Transportation Commission Tues 7/21, 7pm.
Make your voice on biking and pedestrian safety and access issues in San Carlos heard and keep up the momentum for better/safer bike & pedestrian in our town. The next Transportation & Circulation Commission Meeting is Tuesday, July 21, 2020 at 7pm.
Urgent: Change the Pedestrian Crosswalk Paddle Signs to "STOP for Pedestrians" with a Stop Sign Decal placed over the existing Yield Sign, because drivers get confused whether they are supposed to Yield or Stop
Important: Remove the "Weekends" signs from below the "Share the Road" signs on the Bike Loops
Helpful: Make the Wording of the Downtown Signage more inviting of Bikes & Pedestrians, and "Walk Bikes When Crowded"
Got Graphic Arts Skills? Help improve this Walk & Roll to Downtown San Carlos Flyer to Bring Bike/Pedestrian Traffic to Downtown!
Anyone with this link can access/edit this flyer and these images: "Celebrate Summer in San Carlos"
San Carlos Public Works Applying for Grant to Improve Bike Safety on San Carlos Ave between Elm & El Camino Real!
Public Works has applied for the ATP Grant Funding. See Detailed of the above Design here: San Carlos Conceptual

2nd Annual "Civilized Century" is coming up Sunday, August 2, 2020!
Want to enjoy the pinnacle of cycling goals but without the hassles?–Perhaps the Civilized Century is for you! Hosted by Redwood Shores Cycling Group. Details at: www.civilizedcentury.com -No ugly start times. Ride out at 9am or later!
-No hills, hills, and more hills. It's pretty much flat-ish!
-No time gates. There's 14 hours of daylight but 10 ought to do it.
-No long, early morning drive or hotel stay. It's local!
-No rain. It never rains in California or so the song says.
-No wind. Well that, we cannot promise.
-No huge registration fee. It's $30!
-Route options for everyone: 35miles, 60miles, 75miles, and Century/100miles.
Silicon Valley Bicycle Coalition Annual Bike Summit going virtual and coming up!
Please join us at the 10th Annual Silicon Valley Bike Summit – our area's largest gathering of active transportation leaders and organizers – from government, the private sector, non-profits, and the general public.
Register for the Summit here! Regular registration July 1 to August 5, 2020.
Scholarships are available for those to whom the cost of admission is prohibitive; please contact sandhya@bikesiliconvalley.org to apply.
Agenda: Find the agenda here
Posters: This year, along with sessions, we will be showcasing posters submitted by participants on key issues and innovative ideas related to biking. Stay tuned for viewing posters in the first week of August just before Bike Summit.
Bike Awards: For the fifth year, SVBC will be presenting awards at the Bike Summit. The awards are not only a way to encourage people to do cool things related to biking, but also to publicize the dedication, time, and energy they are putting in to make things happen! Nominations have closed, voting is now underway until July 15. Vote for your favorite Bike Person, Project and Program today!
Saturdays & Sundays in July: 'Critical Mass' comes to San Carlos
We'll leave at 10am from Harrington Park (759 Laurel St). All riders/levels welcome. Whoever comes, we'll divide into a slower & faster group to accommodate different skill levels.
Default Route (unless group decides otherwise) will be Elm St <–> Arroyo St <–> St Francis Way <–> Cedar St.
Slower/younger riders can loop clock-wise (head south on Elm at Arroyo)
Faster/more confident riders can loop counter clock-wise (head west on Arroyo at Elm)
This way we get to pass and cheer each other on throughout the loop, which is always fun while providing a great opportunity to teach and inspire young and new riders. See you on the loop!
"Sip & Fix" with Mobile Bike Repair Velofix this Sat 7/11 in Woodside!
On Saturday, July 11, 2020 from 9-1pm at Woodside Village Hub. Ride out to Woodside and enjoy delicious Stumptown Coffee and pastries while Velo Fix mobile bike service will be on hand for some free bike repair.
Join our San Carlos community for an (unofficial) 4th of July Bike Parade this Saturday, July 4, 2020!
As always, EVERYONE is welcome on bikes, wheels and on-foot on our new Bike Loops all weekend long, but everyone is ESPECIALLY welcome from 10-11am to join our San Carlos community for a special "Bike Parade" that will loop around CEDAR–ARROYO–ELM–ST FRANCIS (both directions) to celebrate the 4th of July.*
Decorated Bikes & Riding Wheels encouraged!
Walkers/Runners/Bikers in Costumes encouraged!
Patriotic Music (not too loud) encouraged!
Masks strongly encouraged!
The streets are OPEN to two-way traffic as always, so bikers, drivers and pedestrians will be sharing the road. Bikers please make sure drivers have room to pass. Drivers please pass riders slowly and carefully.
Free Bike Decorating Supplies available at the corner of Chestnut St & White Oak Way (see pictures below). Includes crepe paper and colorful spoke sleeves.
(*Because White Oak Way is less busy than St Francis, families with very young riders might want to use White Oak Way for the southern edge of the Parade Loop,, instead of St. Francis. If any of the streets feel crowded at any point, we'll spread out to other streets within that loop. Spread out, wear masks and keep plenty of distance between non-household groups.
ARCHIVE from May 2020:
IMPORTANT! Biking-related Items on City Council Agenda! Mon, May 11, 2020, 7pm! San Carlos City Council will discuss possibility of implementing Slow Streets in San Carlos and possibly closing parts of downtown Laurel Street to car traffic so pedestrians can spread out and restaurants can seat out of doors.
SLOW STREETS UPDATE:

As of May 1, 2020, two-thirds of the residents on the 1500/1600 Block of Chestnut St (between St Francis and White Oak Way) have approved a petition to the City of San Carlos to designate this block a 'Slow Street.' A slow street is one closed to through-traffic but open to residents and anyone whose destination is on the street. Speed limit is 15mph. (For reference see: How Oakland Made Pedestrian-friendy Slow Streets- City Lab )
'Slow Streets' started in Oakland and are now also in Redwood City, Foster City, San Mateo, San Francisco, Burlingame, Alameda, Portland, New York, Madrid…
Barricades and speed limits would not be policed, and would look something like this:
So far, Public Works' recommendation to City Council is to NOT implement Slow Streets because they don't want to 'give people a false sense of security' on our streets, but the City Manager's recommendation is more encouraging, which is for City Council to create an ad hoc Council Subcommittee to delve into the issue further.

From Public Works: "Staff does not recommend the closure or partial closure of residential streets for social distancing due to the impacts on the residents, parking, and City staff needed to maintain closures. In addition, users of a closed street will have a false sense of security that they are protected in a closed environment even though there are active vehicles using the streets." (See full staff report under 'Staff Report', item 9a, here: http://sancarlosca.iqm2.com/Citizens/Detail_Meeting.aspx?ID=3022 )
From City Manager: "Staff recommends Council consider establishing and appointing two Councilmembers to a Street Closure Ad Hoc Subcommittee ("Subcommittee") for assisting staff with implementing a process of temporarily closing streets for social distancing; and to consider granting the Subcommittee the authority to make a final decision."
PEDESTRIAN ZONE ON LAUREL UPDATE:

From Public Works: "A limited time closure from the late afternoon to a designated time in the evening may be an option. While allowing emergency access at all times, deliveries and street maintenance could be performed in the mornings and early afternoons. A parking or valet program could be implemented by the downtown merchants during the limited time closure. Staff would need to study this as there is pressure to allow deliveries at all times to ensure merchants have what they need to serve their customers. Closure of City owned parking plazas such as, Clark's Plaza, are another option to closing Laurel Street. This closure will be less impactful to through traffic but would still require the removal of public parking and will impact store delivery and garbage service collection."
ARCHIVE from February 2020
"I My Bike" Day, Feb 14, 2020 is just around the corner! Take your bike out to dinner, show it some love with some new accessories, and to really show you care, schedule it the bike tune-up you've been putting off (because everyone knows there's no time like winter for the quickest turn-around tune-ups, so you spend the least time possible away from the 2-wheeled love of your life.)
"Three Bridges & One Train: An E-Bike Ride" on Feb 16, 2020 from 10am-8pm,an 83-mile e-bike ride; Cross the Golden Gate, Richmond and Dumbarton Bridges. Ride along Bay Trails. Starts at GG Bridge Welcome Center, ends in Atherton. Details & Sign up: Three Bridges & One Train, on Meet-up.com
Redwood City Hopkins Street safety re-design presentation on Feb 20, 2020 at 6:30-8:30pm to reveal survey results and pilot design findings; at Reedemer Lutheran School, 468 Grand St, Redwood City. Hopkins St Traffic Safety Project Updates
Inaugural "Bike Film Series" hosted by Western Wheelers begins Feb 21, 2020 at 6:30pm with "Breaking Away'"; at local Sports Basements around the area, monthly thru May, must be a Western Wheelers member to participate (membership fee is $35/yr, Western Wheeler Membership, join anytime)
San Carlos Transportation Commission Meeting RESCHEDULED to Thurs, Feb 27, 2020, at 7pm in San Carlos City Hall, 2nd floor Enterprise Room. San Carlos Bikes will meet the hour before, at 6pm around the San Carlos City Hall Lobby for planning and strategizing improving bike infrastructure and access in San Carlos–everyone welcome! (Follow: T&CC Meeting Updates)
"Coffe & Conversation" with our Local Lawmakers on Fri, Feb 21, 2020. Both Assemblyman Kevin Mullin and Senator Jerry Hill are hosting open-to-the-public discussions:
Motherload" the Movie, showings coming up! If you missed the San Carlos screening last Fall, here's another chance to see this inspiring movie about the power of bikes, in particular cargo bikes, to save the world. Reserve now:
In Menlo Park on March 22, 2020, 2pm-5pm. Menlo Park Motherload RSVP
In Palo Alto on March 1, 2020, 2-4:30pm, at Grendell School, 4120 Middlefield Rd. RSVP here: Palo Alto Motherload RSVP, by Wheel Kids
MOTHERLOAD is an award-winning crowdsourced documentary about a new mother's quest to understand the increasing isolation and disconnection of the digital age, its planetary impact, and how cargo bikes can be an antidote.Read a great review of the movie by Outside Magazine here: Outside Magazine MOTHERLOAD Movie Review
ARCHIVE from January 2020
Caltrain Bicycle Advisory Committee Updates (11/20/19 meeting)

Hillsdale Caltrain Station to temporarily close in Spring 2020 during the 25th Ave (San Mateo) Grade Separation ~6 months
The Complete Set of Project Update Slides is here: Caltrain BAC Hillsdale Station/Grade Separation Project Slides (11/20/19)
Belmont Caltrain Station planned as primary alternative. Concerns raised that Belmont's section of Old County Rd between Hillsdale & Belmont Stations need street sweeping and safety upgrades.
Bike Crowding on Caltrain: 854 Bikes Bumped from Caltrain this year so far because of crowding . Caltrain is tracking this to work toward decreasing this problem.
Follow electrification of Caltrain progress here: www.calmod.org
Bicycle Registration Drive between Caltrain and Project 529 continues.

Download the App or visit https://project529.com/garage to read about the organization and register your bikes!!
Call the Sheriff's office to get a 'Bike Registration Shield' Sticker for your bike that lets would-be criminals know your bike is registered, or purchase one online on Amazon for $25. (And please spread the word to your biking friends. Takes only a few minutes, and if something happened to your bike it's an instant report through the App, which alerts all Caltrain Police and Law Enforcement about the theft and to be on the lookout for your bike.)

Biking in the US Needs a Public Relations Makeover: What "Just do it" did for Nike, we need to do on a national level for promoting bicycling. Possibilities so far include: "Does your commute spark joy?","Neon is the new Black", "There's a party on America's streets, and it's BYOBicycle", and "Biking is a superpower" Suggestions needed! Please email sancarlosbikes@gmail.com your ideas
Street Parking is a problem. One of the biggest impediments to cars, bikes and pedestrians a) moving around safely and efficiently on narrow San Carlos streets and b) being able to see around corners/down the street, is the ubiquitousness of on-street (and sometimes on-sidewalk) parking.

It's worth nothing that a huge number of San Carlos' transportation/safe routes/congestion/emergency evacuation issues would be greatly reduced or even eliminated simply by prioritizing streets for moving vehicles, rather than parked ones.
What kind of incentives would motivate San Carlos residents to reconfigure their driveways, garages and front yards to be able to park all their cars on their own property instead of relying on street parking? How could it be done attractively? (Could guest cars fit on your own property as well).
In Menlo Park for example, street parking is banned between the hours of 2am-5am, which dramatically reduced overnight crime like car break-ins, theft and vandalism, and improved access for emergency responders.
What if to make space for bike lanes while preserving street parking for construction/utility vehicles, deliveries, gardeners, UPS/mail trucks, guest parking, etc. that frequent residential homes, a single row of parallel street parking spots ran down the middle of residential streets. (Space would have to be left open in front of each driveway.) This would allow space for a car lane AND a bike lane, down either side of the parked cars in the middle of the street. Email Sancarlosbikes@gmail.com with thoughts and suggestions.
ARCHIVE from December 2019
The 1st ever "San Carlos Death Ride!", Sat, Dec 14, 2019, meet 8:30am at Burton Park. Finally, the reason you've been dying to find to climb up 1, 2, 3, 4 or ALL 5 of San Carlos biggest hills on your bike! RSVP here: http://evite.me/sYv3DsAQEQ
Silicon Valley Bicycle Coalition Annual Member Party, Thurs Dec 5, 2019 from 5:30-8pm at LinkedIn in Sunnyvale. Free for members, if you aren't a member yet, please join! it's $35/yr annual membership fee. Details: https://bikesiliconvalley.org/svbc-member-party/
Bike/Ped Masterplan Presentation by Alta Planning at Transportation & Circulation Commission Monthly Meeting, Tues, Dec 17, 2019 from 7pm in City Hall Enterprise Rm. (San Carlos Bikes Monthly Planning Meeting always meets the same day, one hour before, at 6pm, outside on patio on the west side of San Carlos City Hall.
"Get your Dream Bike Project Off the Ground" Workshop, Wed, Dec 18, 2019 from 6-8pm, free, at Redwood City Public Library. Silicon Valley Bicycle Coalition-led workshop on how to advocate advocate for, find funding and build collaboration for better biking in your area. Bike Advocacy Training Sign-up here
Adaptive Bikeshare Pilot/Test Ride Event, Sundays, Dec 1/8/15/22/29, 2019 from 11am-4pm, Golden Gate Park, San Francisco. Details: Bay Wheels/BORP Adaptive Sports & Recreation Calendar, Email leo@borp.org for more info.
SEPARATED bike lanes need to be priority, according to National Transportation Safety Board by Chairman Robert Sumwalt at his 11/5/19 Address

From his address: "…we learned that 857 bicyclists died in crashes with motor vehicles in 2018—a 6.3% increase over 2017—and this was in a year when total road fatalities went down 2.4%. Today's report focuses on how we can prevent collisions between motor vehicles and bicycles by creating an infrastructure that separates bicycles from other traffic…"
See full address: Safety Research Report – Bicyclist Safety on US Roadways: Crash Risks and Countermeasures

Our area's FOURTH local bike shop in the last 12 months just closed, Motostrano of Redwood City, after 17 years in business. 😦 WE NEED TO SUPPORT OUR LOCAL BIKE SHOPS! (This past year we already lost Talbot's Bicycles (San Mateo) and Performance Bicycles (San Mateo & Palo Alto locations).

Why are our bicycle shops so important? Because bike shops are hospitals for bikes — they are where new bikes get delivered, annual check-ups get performed, and old bikes get new life breathed into them. Bike mechanics are bike doctors–geniuses with allen wrenches. Without these incredibly knowledgeable folks our bikes don't get assembled properly, they don't get maintained optimally, and they don't get the repairs they need when they break down.
Bicyclists, like shellfish in a bay, are an 'indicator species'–they tell us about the level of health in our community. Bike shops are a similar story–supporting our cyclists supports the health and well-being of our entire community, whether we ourselves are cyclists, drivers, pedestrians, other wheel-riders, public transport takers, or all of the above.
Please support our small business, local Bike Shops!:

Redwood City–
Chain Reaction Bicycles, 1451 El Camino Real
Woodside Bike Shop, 1523 Woodside Rd
GoRide Bicycles, 2755 El Camino Real
Veloro Bicycles, 910 Main St
Belmont–
California Sports & Cyclery, 1464 El Camino Real
Belmont Bikes, 2041 Ralston Ave (Carlmont Shopping Ctr)
San Mateo–
Cyclepath of San Mateo, 1212 S. El Camino
Cognition Cyclery, 66 E. 4th Ave
Helm of Sun Valley, 333 N. Amphlett Blvd

Also, while these aren't small businesses, they ARE also part of our local bike shop family:

REI, 1119 Industrial Ave, Ste A, San Carlos
Sports Basement, 202 Walnut St, Redwood City
ARCHIVE from November 2019
San Carlos Bike Community Input on Housing Needed Thurs, Nov 7, 2019 at 7pm, at Hiller Aviation Museum, the City of San Carlos is addressing its housing challenges and our biking community needs to be part of this conversation.

Transportation conversations inevitably start and end with housing issues--the earlier we cyclists get ourselves involved in housing conversations, the more directly we can help support our city and shape its direction with transportation.
AFFORDABLE housing that has GREAT access to bike lanes/public transportation, enough space to SECURELY and conveniently store bicycles/active transport devices, and includes a plan to NOT add more parked cars along our streets where BIKE LANES should be anyway and people already can't see well around corners, are just a few of the important issues in the larger housing conversation.
Fellow cyclists, please bring your voices, problem-solving prowess and years of transportation wisdom to this important San Carlos housing conversation. (If you can't make it to the meeting, you can still spread the word–ask your friends, neighbors and co-workers if they are attending!)
Grand Opening for new local bike store, Belmont Bikes, Sat, Nov 9, 2019 in Carlmont Shopping Center, Belmont, Hours: Tues-Sun 11am-6pm, https://belmontbikes.com
Next Caltrain Public Feedback Meeting in San Carlos: Nov 13, 2019, from 6-8pm, Caltrain HQ, in Auditorium, 1250 San Carlos Ave. Long range demand for Caltrain service estimated to increase by up to 300 percent, with 243,000 daily riders by 2040. Caltrain Public Feedback Meeting
Caltrain Bicycle Advisory Committee (BAC) Meeting is Thurs, Nov 21, 2019 5:45pm, 1250 San Carlos Ave, San Carlos; 2nd Floor Auditorium, Open to the public; Caltrain's Bicycle Advisory Committee (BAC) serves as the primary venue for the interests and perspectives of bicyclists to be integrated into the Caltrain planning processes. This group brings new ideas for discussion and helps Caltrain guide its future investments: Caltrain Bicycle Advisory Committee
3-way Stop approved by RC City Council for Intersection Arlington@Warwick! Redwood City City Council voted last week to approve the installation of a 3-way stop at this dicey corner that is on the Peninsula Bikeway AND our San Carlos Sequoia High students bike route every day! Thanks Erik Zhen & Jessica Manzi, Redwood City Engineers!
Studies Show E-bike Riders get Similar Health Benefits as Regular Cyclists. E-bike riders tend to ride further, longer, and climb more hills than they would on a regular bike, because they are replacing so many car trips with bike trips. And since the hills of San Carlos lend themselves so beautifully to e-biking, this is great news for our town. Riding E-Bikes Boon to Health and not 'Cheating' (Also as an FYI, the city of Mountain View is paving the way for offering rebates for E-Bikes as part of its climate action and sustainability planning…)
Mountain Biking Event at Sports Basement a Success! 30 mountain biking supporters & enthusiasts attended San Carlos Bikes' Event at Sports Basement last Saturday evening to watch and be inspired by the film SingleTrack high (view here: Singletrack High Film) and meet the coach and members of the awesome Woodside Beasts Mountain Biking Team, who are part of the Norcal Bike League.
Traffic Gardens sprouting up all over! Find out where the latest traffic gardens are being built, that teach children pedestrian/bicycle/wheel-riding safety in a fun, interactive, and profoundly effective way: Discover Traffic Gardens
12″ Small Child's Bicycle Donated by Chain Reaction Bike Shop is back up for grabs! Our winner of this small bicycle, Monika S., has older children and so doesn't need a 12″ child's bicycle. IF you attended the screening of the MOTHERLOAD movie at the Youth Center AND turned in a survey AND would like to be entered for the RE-DRAWING to win this bicycle, please email sancarlosbikes@gmail.com! (This bike will make a GREAT holiday present for the 3, 4 or 5 year old new biker in your life!)
ARCHIVE from October 2019:
San Carlos Art & Wine Faire Bike Parking in front of Sam Trans Building.Sat/Sun Oct 12-13, 2019 from 10am-6pm, Bike Parking Corral will be in front of SamTrans Building (1250 San Carlos Ave, north side of street). Help encourage San Carlos to bike, by volunteering for a 1-hour shift to help staff it on either day. Sign up here: https://www.signupgenius.com/go/805054ca9ab23a0f85-bike
Silicon Valley Bicycle Coalition's Annual Dinner/Fundraiser, Sat, Oct 12, 2019, 5:30-9:30pm at Crown Plaza, Palo Alto. A great opportunity to enjoy a tasty menu, hear great speakers, support a great cause and spend the evening with like-minded people. Please attend! Tickets & information: https://bikesiliconvalley.org/svbcdinner/
Menlo Park 'Pop-up Bike lane & Bike Safety Faire' on Chilco Street, Wed, Oct 2, 2019 from 7:30-9am and 3-5pm.
Ravenswood Bay Trail Project construction to begin! Will complete a 0.6 mile critical gap in the SF Bay Trail on the Peninsula, between University Ave and Ravenswood Open Space Preserve. Open house Fri Oct 11, 2019, from 10-11:30am, Details: Ravenswood Construction Project to Begin.
Want to fix your bike (and other items) for free? Sat, Oct 27 is San Carlos' Re-Think/Recycle Day! Come to the San Carlos Library with broken items you want to learn to repair, including bicycles! Participants can sign up here: https://www.eventbrite.com/e/rethink-recycling-day-tickets-72443100263, and community members who are good at fixing things, especially bicycles, PLEASE SIGN UP HERE!: https://docs.google.com/forms/d/e/1FAIpQLSd5_bJ-pVnWKoZ0joOQEooWo7wB0DapDATp4V44K_ym92EETw/viewform
Important Agenda Item for San Carlos on Redwood City Council meeting Oct 28, 2019 at 1017 Middlefield Rd, Redwood City; City engineers to recommend all-way stop at Arlington/Warwick intersection, (yay!)
Caltrain needs cyclists on bicycling advisory team—do you live in San Mateo County and commute by bicycle/Caltrain? Can you meet one evening, every other month, in San Carlos? If so, apply here: http://www.caltrain.com/…/Bicyc…/BAC_Online_Application.html; Applications due: October 18, 2019
Feedback needed on Menlo Park Transportation Plan. Respond on-line until October 11, 2019 Details at: https://www.menlopark.org/tmp
From September 2019:
Our "MOTHERLOAD Film Screening was a great success! Nearly 100 people attended, and 41 surveys were collected, with the help of a 12″ Trek Kid's Bicycle that was donated by Chain Reaction Bicycles (in Redwood City) to incentive survey return. One lucky winner, Monika Stahler of San Carlos, had her survey drawn from the returned survey pile. Congratulations Monika! Survey and results of survey can be viewed here: Motherload Film Screening Survey Results
Thanks for reading The Squeaky Wheel Digest!